Rachel Kytonen, County News Review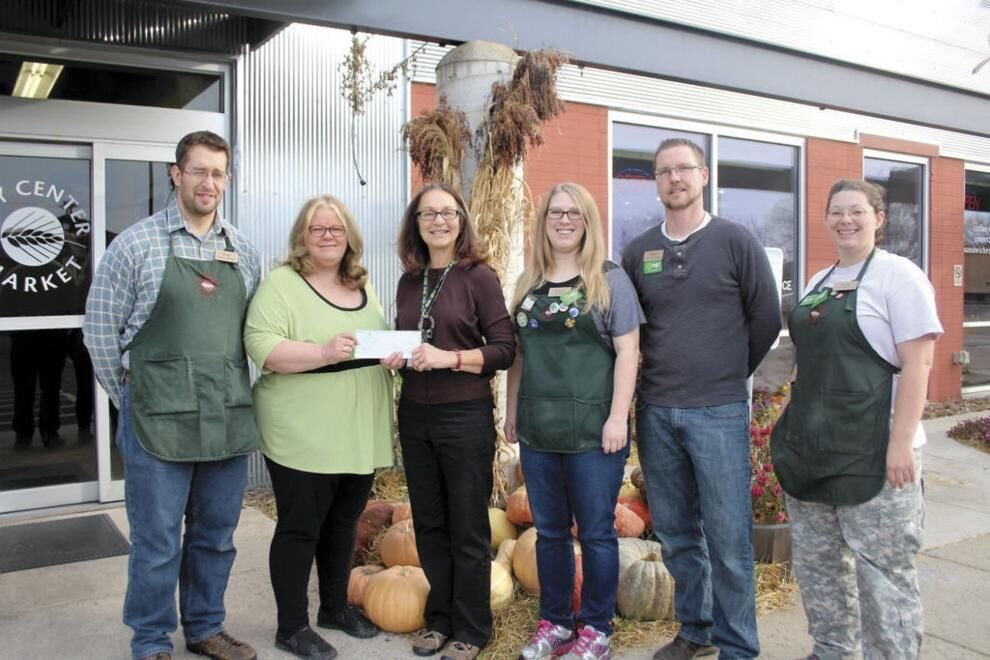 In December 2016, Gayle Cupit (third from left), general manager of City Center Market, presented a $620 check to Roxie Karelis (second from left), director of community services for Family Pathways, to help support The Refuge Network.
Roxie Karelis, who died on Nov. 13, 2020, dedicated her professional career to helping survivors of domestic violence.
The "O" in the Roxie's Hope logo was doodled by the late Roxie Karelis. At the time of her death in November 2020, friends and family of Karelis learned she was in the beginning stages of creating a new nonprofit with a continued focus on helping people, and had drawn the flower that is serving as the "O." This group continued Karelis' work and has recently created the nonprofit Roxie's Hope in Karelis' memory.
A Cambridge woman who spent her entire adult career serving survivors of domestic violence, while also successfully leading the charge for the opening of the first emergency domestic violence shelter in Isanti and Chisago counties, is being honored for her lasting legacy.
Roxie Karelis, who died unexpectedly on Nov. 13, 2020, at the age of 65, served as the executive director of The Refuge Network from January 2007 until The Refuge merged with Family Pathways in 2014. The Refuge provides support services to victims of domestic violence such as crisis intervention, information and referral, advocacy, court assistance, hospital and law enforcement response, support groups, community education, mediation and paralegal services and emergency shelter.
The family of Karelis is inviting the public to a celebration of her life at 2 p.m. Saturday, Oct. 16, at New Hope Community Church in Cambridge, 33030 Vickers St. NE. A private memorial was held strictly for family in November 2020.
Also during this service, it will be announced that a group of family and friends of Karelis have launched a nonprofit in her honor, called Roxie's Hope. The mission of Roxie's Hope is to provide financial assistance to survivors of domestic violence who are living in a shelter and transitioning to independent living.
"The family wants the community to attend the celebration of life service because she impacted the Cambridge area for so many years with her work with The Refuge and then Family Pathways," said Rahya Geisler, who worked with Karelis at The Refuge and is the board chair of Roxie's Hope. "She has given her whole entire adult life to serving victims and survivors of domestic violence. It has been amazing to find out she truly, truly has dedicated her whole entire life to this cause. And so how do we not keep that going for her?
"It was a shock to all of us. It's a great loss, not only personally, but she gave so much of her life to serving people in general and giving to others. This is very much a huge loss to the domestic violence community. She's the most selfless, giving person I have ever met in my entire life," Geisler added.
Geisler explained the timing of Karelis' community service is no coincidence: October is Domestic Violence Awareness Month.
"Roxie has been the greatest mentor in my life," Geisler said. "She has taught me everything from serving victims to running a nonprofit and every single thing in between."
Following the merger of The Refuge and Family Pathways in 2014, Karelis joined Family Pathways' leadership team as the director of community services, where she assumed responsibility for youth and senior services, as well as continued to oversee The Refuge's operations.
At the time of her death, Karelis was beginning a new journey with Support Within Reach, a nonprofit community service organization serving residents and those impacted by incidents of sexual violence. Support Within Reach serves Aitkin, Beltrami, Cass, Clearwater, Hubbard and Itasca counties, with Karelis based out of Bemidji. Most recently, Karelis was also serving on the state coalition board of Violence Free Minnesota, formerly known as the Minnesota Coalition of Battered Women.
Isanti County Commissioner Susan Morris served on The Refuge Network committee.
"I was a brand new commissioner and we were deciding which commissioner would serve on each committee. When we got to The Refuge, I was told, you are a woman you should serve on this committee," Morris said. "I did not know much about domestic violence, but I was about to learn. When I arrived at the first meeting, it was Roxie's first meeting as executive director. We grew together, she learned our community and I grew to understand domestic violence. Roxie was a natural leader, with gut instincts that were always 100% correct. She was a quiet leader, never wanting to draw attention to herself. She elevated everyone around her, she built partnerships and leveraged anyone who shared the vision of helping people who have been traumatized by domestic violence."
Geisler, who is the Minnesota victims services manager with Mothers Against Drunk Driving, worked with Karelis during Karelis' entire duration at The Refuge, but also continued to volunteer with Family Pathways and The Refuge after beginning at MADD.
Geisler said she learned many valuable lessons from Karelis about running a nonprofit, especially when establishing Black Dog Hill, an emergency shelter that opened between Isanti and Chisago counties in February 2009. At the time of its opening, Black Dog Hill was the only emergency shelter serving women and children of domestic violence in Isanti, Chisago, Kanabec, Carlton, Pine and Aitkin counties.
"During the time of creating Black Dog Hill, Karelis taught me about building the addition and working with the contractors; gaining buy-in from the neighbors; raising money through a capital campaign to open the shelter; creating all the programing; buying all the supplies, beds, furniture, food, etc; hiring the employees to open and work at the shelter; and planning the grand opening," Geisler said. "Eventually Roxie handed the shelter over to my mom, Char Weidendorf, who was one of the first shelter advocates and eventually became the shelter manager. This was the biggest adventure and the most learned in my professional nonprofit career to date."
Morris recalls the hard work it took for Karelis to open Black Dog Hill.
"We went through huge ups and downs together," Morris said. "I will never forget the day she called me to tell that the property that is now Black Dog Hill was going to be donated to us to become a shelter. We were excited for the opportunity, but scared because our operating budget would double overnight. The Twin Cities United Way came to our rescue (because Roxie had connections at the United Way). They helped with the renovation and told us that they would fund us at $200,000 for the next five years. Prayers were answered. But just one year later the economy collapsed and the United Way funds dried up and we had no funding. The state had put a moratorium on funding any more shelters.
"I had many calls from Roxie over the next few years; I would come by her office and we would plan and strategize how to get through every crisis. Roxie was committed and she would never give up. She was always exploring ways to be get money so we could keep the shelter open. We opened a thrift store; Roxie wrote countless grants that were successful in bringing in money into the agency. She came up with the idea of the Women's Empowerment Luncheon, which we still do today. She was always working, it didn't matter what time I would stop by the office–she was there,"Morris added.
Morris said Karelis' influence on domestic violence awareness was far reaching.
"Her ability to see true answers to the problem of domestic violence was life changing, literally. The men's program at the Rush City prison was totally Roxie;s idea; she wrote the curriculum and taught the class," Karelis said. "She would bring letters from the prisoners to our board meetings, and when she would share them with us there was not a dry eye in the place. Her vision was if she could show these men what their behavior was doing to their children and if they could be shown there was a better way, they would change. Similar programs are now being run around the country because of the work that Roxie did."
Besides being co-workers, Geisler and Karelis and their families were close friends. Along with Geisler, Geisler's mother was best friends with Karelis.
"Roxie was my mentor, my friend, my co-worker, another aunt/Hansen sister. We have spent holidays, birthdays and many events together. She even let me help bring her granddaughter into this world," Geisler said. "What she taught me in the last 13 years included everything about running a nonprofit, including working with donors; how to work with employees, board members and volunteers; reorganization of a nonprofit; and letting me do everything and anything."
Roxie's Hope
Geisler explained after Karelis' death, Karelis' daughter, Trisha Karelis, was going through her mother's things and found papers, doodles and notes and realized her mother was in the stages of planning a new nonprofit.
"I personally had this overwhelming drive to do something in her name, in her honor, on her behalf, to continue her legacy," Geisler said. "So Trisha brought up the stuff she found and brought it up to our group and we were like, 'Hey, let's do this,' and 'Hey, this is what we want to do with this.' And so we just started getting together, informally and formally in March, and it was all to plan this memorial, but then it turned into Roxie's Hope board meetings/planning committee. And we all feel like Roxie has been driving us, guiding us to do this."
Geisler explained the name, Roxie's Hope, also came from Karelis. The vision of Roxie's Hope is to create a world of hope and independence for survivors of domestic violence.
"We found some of her handwritten notes and she was tinkering around with some names such as 'hope consulting,' and so we were trying to come up a name and someone just blurted out, 'How about Roxie's Hope?'" Geisler said. "And then the tagline is again from Roxie's notes where she had quoted Trisha's daughter, Roxie's granddaughter, Jenecie. And the tagline reads, 'Hope flowers; because everyone needs hope and flowers make people happy.' And so that's where we got our tagline; literally, we just took Roxie's work and doodles and it came up."
The board members for Roxie's Hope includes Geisler, Trisha Karelis, Char Weidendorf, Suzanne Butzow, Susan Morris, Vicki Hurt, Jim Lorge, Adrianna Fore and Jenny Lorge.
Financial assistance provided to survivors of domestic violence transitioning to independent living will be in the form of grants to help pay for things such as rental payments, car repairs, transportation needs, child care, utilities and fees for education.
Morris will miss Karelis, but is happy her work is being continued.
"Roxie left us far too soon, those of us who loved her and knew her best knew that her work is not done," Morris said. "She wanted every person who had been victimized to know that they were loved and valuable and deserved so much better in life. We wanted to help her in that mission.She might not physically be here, but she lives in all of our hearts and now she gets to watch us from heaven as we finish the nonprofit that she envisioned. Our prayer is that Roxie's Hope will bring healing and restoration and hope to those devastated by domestic violence. Roxie was a mentor, she showed me what true tenacity looked like, her passion was second to none. She was a dear friend."
A fundraiser for Roxie's Hope will be held on Saturday, Nov. 20, at the American Legion in Forest Lake, 55 W. Broadway Ave. The event will be fall bingo featuring designer purses with doors opening at 1 p.m. and bingo beginning at 2 p.m.
Tickets are $30 in advance and can be purchased at www.roxieshopemn.org or by calling 612-390-3663. Tickets will also be sold for $35 at the door (limited seats available). The admission price includes a bingo packet, dauber and one raffle ticket. There will be 10 regular games and one coverall. Besides bingo there will be raffles, a wine pull and a 50/50 cash drawing.